The JBL Cinema SB160 is an entry-level sound system that provides cinema-quality sound to your television.
The product also comes with Bluetooth connectivity and may be used as a wireless speaker. It produces excellent, well-balanced audio, has 2.1 channels and boasts tremendous bass thanks to the addition of a separate subwoofer.
For JBL fans, the JBL Cinema SB160 2.1 comes with Dolby Digital, optical, and HDMI ARC, four strong full-range speakers, and a wireless subwoofer.
This is to ensure that the user's experience is more immersed regardless of whether it is used for movies, gaming, or music. 
The main question is, is it worth actually worth forking out money to buy, or is the product just overly hyped? Let's find out. 
This is the JBL Cinema SB160 Soundbar review.
List of Specifications
Channel Configuration

2.1

Product Dimensions

W 35.4″ (90cm) x H 2.6″(6.7cm) x D 2.5″ (6.3cm)

(Soundbar)

 W 6.7″ (17cm) x H 13.6″ (34.5cm) x D 12.3″ (31.3cm) (Subwoofer)

Weight

1.65kg

(Soundbar)

5kg (Subwoofer)

Amplifier output

Total speaker power output: 220W

Soundbar power output: 2 x 52W

Subwoofer power output: 116W

Wireless Audio Protocol

Bluetooth

Optical

USB is for Service only

Audio Decoding Codecs

Dolby Digital

Subwoofer Type

Wireless

Connectivity

Bluetooth 4.0

HDMI In/HDMI out (ARC)

Optical Input, Dolby Digital

USB input
This JBL Cinema SB160 soundbar and subwoofer combo is an excellent choice if you're on a budget but still want exceptional sound quality.
In addition to Dolby Digital and HDMI ARC, you'll get a wireless subwoofer and JBL's well-known sound quality to enhance your movie-streaming experience with extra-deep bass. 
The 220W power is sufficient for a regular room size without the need for a more expensive audio setup.
While the HDMI ARC provides reliable, uninterruptible connections, you may also use the built-in Bluetooth connection to play music from your smartphone or laptop.
Pros
The output power is 220 watts.

Enhancement of vocal clarity with a dedicated sound mode.

Subwoofer for deep bass that's wireless.

Integrated Dolby Digital.

Music can be streamed wirelessly via Bluetooth.

With HDMI ARC, you only need one cable.
Cons
Somewhat low precision.

Unclean transition between sub / bar.

Light on accessories.

Optical cable doesn't stay in place well.
What's in the box? 
Soundbar

Wireless subwoofer

Remote control with batteries

Power cords (up to 8pcs depending on region SKUs)

HDMI cable

Wall-mount bracket kit with screws

Quick start guide

Warranty card

Safety sheet
Design and build
The JBL Cinema SB160 soundbar is only available in black and boasts a simple, minimalist design.
The device comprises a rectangular box that houses the larger and more powerful subwoofer, as well as a lengthy soundbar with four drivers and system control buttons for volume and equalization adjustments.
In traditional setups, soundbars are frequently placed in front of the TV, with the subwoofer on the floor to the side, to achieve a more unified and immersive sound propagation. 
But for the JBL Cinema SB160, the setup does not matter, as the bass and sound of the speaker will echo and bounce within the room. 
As a result, even if the system lacks the 5.1 channels of a normal home theatre, the user must feel immersed when watching movies and programmes.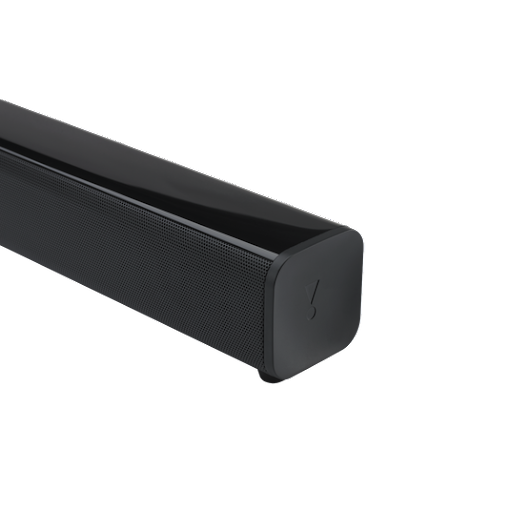 With the buttons designed on the top surface, it makes it more convenient for users.
The best part? The design is so plain and simple that it can suit the theme of any home!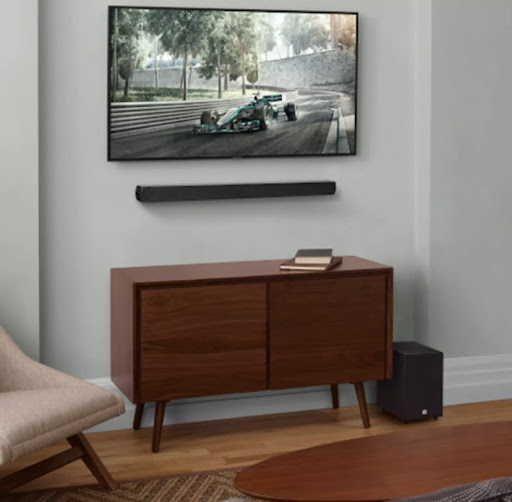 Controls
This device comes with a remote control as well, which is the primary means of controlling it.
Because of its compact size, it's easy to use with just one hand. However, it is quite lightweight and has a cheap feel that raises doubts about its long-term performance.
The optical feature button on the remote is a must-try since it sends a digitally encoded audio transmission between your TV and your Sound Bar via a beam of light. By using light, there is no loss or interference to the signal.
The remote has various functions, those of which include adjusting the volume, activating Bluetooth, HDMI ARC and Optical mode respectively, switching between News, Music and Movie based on the user's mood and preference, mute, and also turn off or on the gadget.
Connectivity
The soundbar supports Bluetooth 4.2, according to the brand's website, but it also has an optical input that should improve the sound quality and precision. It's worth noting that the most recent wireless connection standard is 5.0, which is faster and more dependable than previous versions.
Likewise, the product also comes with HDMI In/HDMI Out (ARC), Optical, Dolby Digital, and USB ports which are made available for users to ensure no connectivity issues and to make it easier to pair with other electronic devices. 
Although the connectivity of the product is portrayed to be user friendly and hassle free, there have been reviews online which claim otherwise as many JBL speaker owners have faced difficulties trying to pair their electronic devices with the speaker. 
Performance 
JBL SB160 delivers powerful bass with the subwoofer, which, when correctly calibrated and placed, tends to provide good sound immersion for any recreational purpose. 
Moreover, the same Dolby Digital sound quality protocol used on DVDs and Blu-rays, is implemented for the sound quality of the speaker, according to the official description of the package.
Although the performance of the JBL Cinema SB160 is way more powerful compared to the JBL Bar 2.1, it does not have a dedicated sound mode that enhances voice clarity for a true cinematic experience.
Competition
At this pricing point, the JBL Cinema SB160 boasts an amazingly balanced sound, making it a strong candidate for a wireless speaker. But is it really the best option when compared to these other brands? Let's find out if other brands have been deemed more worthy by speaker users:
Sony HT-S100F
The Sony HT-S100F is an unappreciated star! It is without a doubt one of the greatest soundbars you can get for a low price. It is a stand-alone product, thus you will not receive a subwoofer as part of the package. It has the same look and feels like any other soundbar on the market. The top is covered in imitation leather, while the front grill is completely metal with a matte black finish.
The size of this best-budget soundbar contender may be the only complaint you have. It supports Dolby Digital, although due to the fact that it is a 2.0 product, the output would suffer from downmixing. Aside from that, the output is quite loud, although it struggles with bass.
Overall, if you're seeking to replace your TV speakers but are on a budget, it'll do the trick and you won't be disappointed.
Samsung HW-A450
The JBL Cinema SB160 has a worthy opponent when compared to the Samsung HW-A450 as it is considered one of the best budget soundbars that are under $200. For watching TV and listening to music, this 2.1 configuration is a wonderful option. It has a wide range of sound modification options. To stream music from your phone or tablet to the bar, it's equipped with a Bluetooth connection.
This soundbar may be used to listen to a wide range of audio sources due to its neutral and balanced sound profile. It has a dedicated subwoofer that offers a bit more bass. There are many ways to alter the sound, including a visual EQ and pre-programmed settings.
Conclusion
At a $249.95 price tag, The JBL Cinema SB160 offers all the advantages of conventional 2.1 soundbars with subwoofers. It is lightweight, simple to set up, pairs easily with Bluetooth, and provides bass that lasts for days. At this price point, extra connectivity choices such as Wifi connectivity, voice searching features, or just better surround sound would have made this product even more appealing among speaker users.