If you are into audio equipment, there is hardly a chance that you aren't acquainted with Polk Audio. The brand is known for their well-rounded offerings in the speakers and soundbars departments. The brand is not a direct seller but prefers subletting the job to its agents and distributors.
The latest entrant in their subwoofer line-up is the Signa 2. It is a 2.1Ch configuration that has a wireless subwoofer and costs below $200. It has a V-shaped sound signature different from what we are used to seeing.


Is it a perfect budget upgrade to your existing setup or are there too many corners cut? Let us find out.
This is the Polk Audio Signa S2 review.
List of specifications
Channel Configuration

2.1

Product Dimensions

35.4 x 2.1 x 3.2 inches (soundbar)


6.7 x 13.4 x 12.2 inches (subwoofer)

Weight

1.77 kg

Amplifier output

Unspecified by the manufacturer

Wireless Audio Protocol

Bluetooth


Wi-Fi

Audio Decoding Codecs

Dolby Digital

Subwoofer Type

Wireless

Connectivity

1 x HDMI – ARC
1 x Optical TOSLINK – Audio


1 x 1/8″ / 3.5 mm – Audio
Pros
Feels robust

Above-average loudness

Great value for dialogue-based content
Cons
The surround sound isn't immersive enough

Lacks support for most audio codecs
Buy Polk Audio Signa S2 from Bestbuy.com now
What's in the box?
Polk Audio Signa S2 soundbar

Wireless subwoofer

IR remote control

HDMI cable

Optical cable

Quick Start Guide
Design and build
We rarely discuss packaging, but we have made an exception for the Polk Audio Signa S2 soundbar. The company packs the product in an L-shaped box, which looks awkward but gets the job done.
After unboxing the product, we couldn't stop raving about the build. Don't get us wrong. It is not that there are fancy materials on board, but the overall design is minimalistic and made of plastic which feels robust. There is a fabric covering the front of the device, making it prone to collecting dust quickly.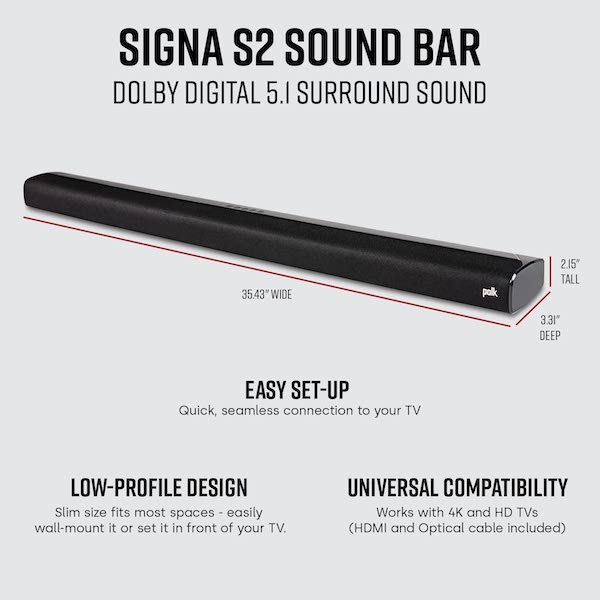 The bar stretches 35.4 x 2.1 x 3.2 inches and will fit below most 55- inchers easily. It is not very tall too, allowing you to set it up between the legs of your television. Polk Audio also gives you an option to wall-mount the bar, if you so desire. The back of the bar has the power input on one side and mounting holes on the other.
Similar to the bar, the subwoofer follows the minimalistic pattern but doesn't feel as well built as the bar. It stretches 6.7 x 13.4 x 12.2 inches, which is pretty good for an external part. The build is all-plastic with a power cable at the back and rest is all kept clean.
Controls
The Polk Audio Signa 2 soundbar doesn't have a display on the device. It instead opts for five LED lights at the center of the front plate. These indicate if the user is playing content via Bluetooth or tweaking any settings. They become green if you are playing Dolby Digital multimedia.
Unlike the Bose Solo 5 soundbar, the Polk Audio Signa 2 has some controls on the bar too. These let you power the bar on/off, increase/decrease the volume levels, and another for managing the Bluetooth.
The package of the soundbar also comes with a small remote. It has all the toggles for managing the device but doesn't work with other devices. It is plastic too, like everything else in the package. It does not surprise us that the Polk Audio Signa 2 doesn't have support for any application to tweak its settings. You need to consider the sub-$200 price tag too and understand that there will be corners cut.
The soundbar also comes with Power Saving built-in, and it helps turn off the device automatically after around 20 minutes of inactivity. It also comes with the much-appreciated HDMI CEC support that lets you use the TV remote to manage some of its settings.


Connectivity
If we talk of connectivity, the Polk Audio Signa 2 soundbar comes with very few input ports on the back of the bar. Users get an optical input, the traditional 3.5 mm for connecting your smartphones and other PDA devices, and an HDMI ARC. It misses out on Full HDMI In which would be an over-the-top for the price it demands.
The subwoofer connects wirelessly to the main bar, and you need to click the pairing button at its back to pair up. It has a power cable to connect it to a power source. The package doesn't have satellite speakers, and the bar doesn't support it too.
As far as wireless connectivity goes, it has an unspecified version of Bluetooth (probably 4.2) as the only option to stream music from your smart devices. There is no Wi-Fi or support for Chromecast to let users connect devices more conveniently.
Talking of audio codec support, this is one area where budget soundbars willingly cut corners. 
The Polk Audio Signa 2 is unapologetic of the same and only plays Dolby Digital content. There is no Atmos or DTS on board. The 2.1Ch configuration further downmixes whatever it supports. Due to hardware constraints, it doesn't support 4k or HDR10 Passthrough so you would not be able to connect your high-end Blu-ray player or gaming setups to it.
Performance
If you are looking to upgrade from your TV speakers and do not want to spend too much, the Polk Audio Signa 2 soundbar is a perfect choice. Its wireless subwoofer and V-shaped sound signature don't make it comfortable across genres, but the side-firing speakers compensate for the same and make it bearable.
Click here to Buy Polk Audio Signa S2 from Bestbuy.com now
Dialogue-based content is its strongest suit even though there is no dedicated center channel. It has a well-balanced mid-range and can get loud enough making it appropriate for podcasts and similar stuff.
But the V-shaped curve means that it tends to make the output boomy or bright depending on the music and it doesn't sound soothing in such cases. Its soundstage isn't too wide either. It felt a bit more than the bar's width, and the imaging was surprisingly accurate, letting users pinpoint the exact location from where the sound is coming. Unfortunately, it doesn't perform well at max volumes, and we experienced compression and distortion creeping in, and it is better to not stretch it that way.
We do not expect 2.1Ch configurations to be exceptional when it comes to surround sound performance. The Polk Audio Signa 2 is terrible at it, and users should be okay with that. It has a stereo setup and down mixes everything to accommodate them. The side-firing speakers try to make the overall experience immersive but don't quite match up to dedicated satellite speakers' performance.
The Polk Audio Signa 2 soundbar has some basic sound enhancement features. Like most bars in this price range, there is no room correction to adjust the output according to the dimensions and will sound differently depending on its placement.
Thankfully, it has Dialogue Enhancement to provide more impetus to vocals. You can further adjust the bass levels and turn on the Night Mode to automatically lower down the volume levels. It doesn't have a graphic EQ, but there are several presets for varying situations to get the job done.
Competition
The Polk Audio Signa 2 soundbar is an affordable offering with a clean look without being intrusive. It has good mids and has ample bass too, but fails in the treble department. There are several sound enhancement modes which are a welcome addition. Here is how it stacks up against the competition –
Bose Solo 5
The Polk Audio Signa 2 soundbar is a noticeably better option that the Bose Solo 5. It is not merely a plug-and-play bar and offers more tweaking options to the users. It has physical buttons, which is a weird omission in the Bose Solo 5.
The presence of a dedicated subwoofer instead of an embedded one further strengthens its lead. It has HDMI ARC support to let users connect multiple devices. But the Solo 5 steers ahead in terms of build quality. It is more compact and offers excellent control over mids and treble.


Yamaha YAS-209
The Yamaha YAS-209 is a significantly better offering than the Polk Audio Signa 2. It has a more neutral sound and handles treble and bass better, thereby excelling in music playback. The build is significantly better, and users get support for more input ports, and it even has Wi-Fi allowing more audio codecs to run via it conveniently.
The Polk Audio Signa 2 soundbar steers ahead in terms of loudness and is somewhat better in surround sound performance than the Yamaha YAS-209.


Conclusion
At a $200 price tag, it often becomes stressful to judge a soundbar in an unbiased manner. The Polk Audio Signa 2 is a simple device that is not trying to do too much. It has a pretty bland exterior, and it is easy to set it up. There aren't too many settings to make the life difficult for a layman user, and it is relatively easy to tweak the audio output.
But it has some significant issues which we cannot deny either. The V-sound signature makes it terrible for music, and there is compression at higher volume levels. The simplistic build is not for everyone, and there is no LCD or LED display on board. If you can look past some issues, the Polk Audio Signa 2 soundbar is a pretty good deal. 
Check it out for a great deal.